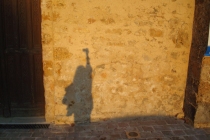 I was born in Missouri, raised in Kansas, and moved to Colorado. In 1985 I landed in Florida where I began putting down roots. Currently, I divide my time between the United States and Paris France. I have placed my feet on the ground in over half the continental United States and continue to explore it. I have traveled extensively throughout an expanded Europe.
I obtained my BFA from Wichita State University in 1977 and my MFA in 1979 from the University of Colorado at Boulder. I was the recipient of an Honorable Mention, Florida Individual Artist Fellowship Award in 1996-1997. My work has been exhibited regionally and nationally. Juried group exhibitions have included, "Featuring Florida" at the John and Mabel Ringling Museum, Sarasota, Florida and "Luminous Code: Photo-Based Art Works" at the TFAA Exhibition Gallery, Austin, Texas. During the Spring of 2002 my work was exhibited in a solo exhibition at the Polk Museum of Art in Lakeland, Florida. In September of 2008 I presented an artist talk of my most recent work at the Pont Aven School of Contemporary Art in Pont Aven, France.
My current work explores the ambiance of Parisian spaces. In this work I seek to develop a personal urban iconography.